In today's railway, fleet managers and engineers are required to deliver ever higher levels of reliability and availability and the pressure is always on to reduce maintenance costs. At the same time, new fleets are being introduced and existing vehicles re-deployed between operators, presenting further major challenges to those in key positions with responsibility for maintenance.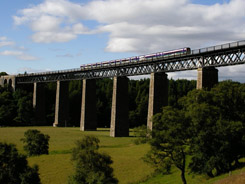 Welcome to Train Maintenance Solutions!
Over the past few years the structure of the rail industry has become increasingly complex, with a host of companies playing a part in providing the ultimate service to the end customer.
In this environment it is good to know that your business can rely on Train Maintenance Solutions to provide a professional, customer focussed and flexible service to meet your train maintenance technical support needs.
We aim to support the success of our clients' businesses by drawing on our considerable experience in maintenance and overhaul for all types of traction and rolling stock. Our service is enhanced by a personal approach and the attention to detail which only a small company can offer.
We understand the commercial pressures behind the need for a high level of fleet availability and reliability and can work with you from our own office or provide a resource to be out-based at your facilities.
Your company's traction and rolling stock maintenance regime ensures that safety is always the top priority. Train Maintenance Solutions can help you develop maintenance optimisation plans to meet your commercial needs whilst guaranteeing that safety remains the key focus.
In response to the expansion of European railway companies into the UK rail market, Train Maintenance Solutions is also pleased to offer a technical and commercial translation service from German into English for all your railway documentation needs.
Many businesses have benefited from the advice and experience of our staff over the years. Our friendly and approachable style means that our clients don't hesitate to call Train Maintenance Solutions to discuss any issues relating to rail vehicle maintenance.
Let us help you keep your vehicles out of the depot and in revenue-earning service!