Whether you need an extra pair of hands or a specific package of work, Train Maintenance Solutions is here to make your job easier.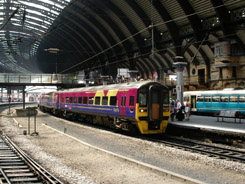 About Us
Train Maintenance Solutions Limited is a small company offering technical consultancy and contracting services to the rail industry in the field of rail vehicle maintenance and overhaul. We offer a highly flexible and enthusiastic approach and bring extensive technical skills and sound commercial awareness based on twenty-six years' experience in the UK rail industry. New challenges are approached with a high level of ownership, a focussed attitude and a determination to deliver an appropriate solution quickly and to budget.
Our experience, gained from working with British Rail, Train Operating Companies, Train Manufacturers, Train Maintenance Companies and Technical Engineering Support companies, extends from diesel and electric multiple units, through a variety of rolling stock types, to freight and passenger locomotives.
A sample of the type of projects in which we have been involved is:
Optimisation of maintenance regimes for Class 156 units
Investigation into failures of a hydraulic parking brake system and project management of implementation of technical solution
Project management of a major modification programme on Class 175 DMUs
C4 Overhaul extension projects on Class 14X and Class 15X DMUs
Risk assessments and vehicle condition assessments to support the deferral of C6/C6X overhauls on a number of DMU fleets
Maintenance migration plans and cutover documents to support the transfer of vehicles between maintenance regimes
Preparation of technical procedure for reforming two-car Class 158 units to three-car units
Preparation of technical submissions to support the VAB process to cover changes to maintenance plans
Project management of development of engineering improvements for Class 175 & Class 180 brakes and bogies
Project management of a reliability improvement programme for a new DMU fleet
Pan-organisational review of management processes affecting fleet availability
Rewrite of train operator's maintenance and overhaul policy to ensure compliance with Railway Group Standards and preparation of a maintenance plan
Rewrite and upgrade of vehicle maintenance instructions and vehicle overhaul instructions
Start-up and management of technical department in a new maintenance depot for a new DMU fleet
Development of an overhaul strategy for a new DMU fleet
Technical management to support the Level 4 maintenance of Class 142, Class 150, Class 153, Class 156 and Class 158 DMU fleets
Technical support for the introduction into service of Class 323 EMUs from new
Translation of tender documentation for high speed trainsets and diesel multiple units for German Railways
Interpreting during technical visit to Germany of IMechE Railway Division and at commercial meetings with German Railways